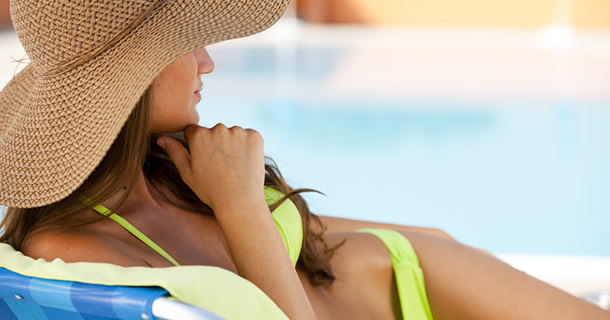 It is hard to believe that so much harm could come from something as warm, beautiful and inviting – as the sun. But with 74,000 new cases of skin cancer (melanoma) found each year, it appears to be much better to enjoy the sun from a distance (or at least undercover), unfortunately.
And for me, the scare of melanoma was enough to get me to start a daily regimen of sunscreen, especially during the summertime months. And then after a visit to my dermatologist, I realize that wearing sunscreen is not the end of it. This is considering that not all sunscreens are created equal. Some protect your skin better, avoid the use of dangerous chemicals, go on smoother, and just look sexier.
These are the top five safe and sexy sunscreens for your face.
Colorscience Sunforgetable Mineral Sunscreen Brush (SPF 30)–
Colorscience has come up with a weightless sunscreen formula that is mineral based (no harsh chemicals), water resistant, and goes on right over your makeup without leaving behind a gooey sticky mess in its tracks. Get it here.
Dr. Denese Defense Day Cream (SPF 30)-
I'm certainly not against day creams, as they are often easy to apply, quick to soak in and can offer a nice base before applying your makeup, especially when used as a daily regimen. Dr Denese is a matte sunscreen that is not greasy, shiny or sticky. In fact, I usually forget that it is even on. Get it here.
Keeki Natural Sunscreen (SPF 30)-
Smells like banana creme pie, is non greasy and is found to be safe according to the Safe Cosmetics Database (at least the last time I checked). This is one of the best smelling options on this list, if that is important to you, and it is also one of the lowest priced. Get it here.
Skin Health Oclipse Sunscreen (SPF 30)-
If you are as pale as me, it sometimes feels defeating adding sunscreen everyday, because what I could really use in the summertime more than anything (other than a daily workout routine I can stick to)… is a little color. This sunscreen by Skin Health Eclipse also acts as a light moisturizer and primer, which offers a touch of color to pale skin with or without makeup. Get it here.

Coola Face SPF 30-
Every woman needs a 'go to' sunscreen, and this is mine. Coola is fantastic as a daily cream that offers reasonable protection (SPF 30) with the addition of boosting your skins protection with antioxidants (omegas, vitamin B, C and E). For many women like me, this a good compromise between affordability, quality ingredients and performance. Get it here.