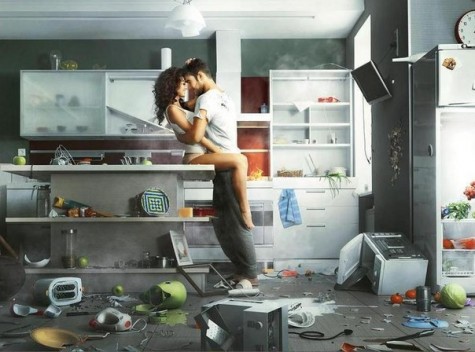 There are many myths when it comes to love, sex, dating, and marriage. If you want to be successful in your relationships, you're going to need to believe in something–and the truth is always the best place to start.
Myth 1 – All I Need is Love
Every woman should have a list of deal-breakers when it comes to relationships, no matter how great she thinks a particular guy is. A few of the most important ones should include drug addiction, personality disorders, sexual preference, religious/political background, and immaturity.
Myth 2 – He's Cheating Because He No Longer Love Me
Sometimes cheating can signal that your guy has fallen out of love with you. However, some guys cheat because they fear a long-term commitment. These guys are appropriately known as Intimacy Phobics.
Myth 3 – A One Night Stand Will Cause a Loss of Respect
While no one is going to say that a one night stand is the perfect way to start every relationship; the lack of communication that occasionally happens afterwards, has more to do with a guy who is just a jerk.
Myth 4 – There's More of Me to Love
Statistics suggest that most men and women prefer average size partners. In studies by Cornell University, 75 percent of men claim they would never date an oversized partner, while 60 percent of women felt the same. Interestingly, this same discrimination seems to pass onto anorexics and bulimics, causing researchers to wonder if it's not perhaps natural selection (survival of the fittest) to blame for such attitudes.
Myth 5 – There's No Such Thing as Being Too Picky
There is a very fine line between being picky and compromising the reality of a relationship. It is a fable that there is a perfect man for every woman. However, keep in mind that the research suggests that we can be perfectly happy with a minimum of 80 percent of our needs met.
Myth 6 – I Can Tell Everything I Need to Know from a First Date
You should never read too much into a first date, as there are too many variables that can skew a first impression, such as nervousness, circumstance, and poor fashion sense.
Myth 7 – I Can Change Him
Oh no you can't. Most research suggests that what you see is what you get when it comes to men.
Myth 8 – It Doesn't Matter What Anybody Else Thinks; I'm the Only One Who Knows Him
When in love, chemicals in your brain create a natural high, which also clouds your perception. If too many people seem to be against some guy you're dating, it is usually a good idea to consider what they're saying, as they may be the only ones who are seeing the situation clearly.
Myth 9 – Porn Ruins All Relationships
Statistics show that nearly all men engage in some amount of porn viewing, while nearly half of all women do. The truth is that porn can be healthy if viewed together in a committed relationship to illicit mood, curiosity, and fantasy.
Myth 10 – I'll Never Get Divorced
Only 10 percent of all people surveyed ever think they'll get a divorce. However, no matter how confident they feel about their current relationship, nearly 50 percent of all marriages end in divorce.
Myth 11 – Living Together First, Strengthens Marriage
It is common belief that living together helps to iron out the wrinkles before marriage. However, research suggests that living together can actually increases the risk of divorce. It is not necessarily the living together that increases these odds, but the types of guys who prefer to test the waters.
Myth 12 – When it Comes to Marriage, the Third Time is Usually the Charm
Women and men with many failed marriages often believe the third time will be the charm. In truth, multiple divorce often signify a problem with their approach to relationships. This explains why most second marriages have a 60 to 67 percent chance of failure, and most third attempts drop to a abysmal 73 to 74 percent chance.
Myth 13 – Honesty is Always the Best Policy
In general, it is a good idea to be honest with your mate. However, there are times when honesty can become a toxic truth ("Have you gained weight?"). As long as a white lie is designed to protect the feelings of the guy being lied to, it is acceptable. It is when the lie is designed to protect your own interests, that it becomes questionable.
Myth 14 – Pickup Lines Are Used Only by Jerks and Players
Research suggests that pickup lines that are intellectual or humorous, are often a sincere compliment to you.
Myth 15 – I Can't Possibly Love Two Men at Once
While Psychological evidence suggests that it may be difficult to love two men at the same type; loving two opposing partners, is actually quite easy to do. The mind is simply combining the complimentary portions of each personality, and creating one ultimate partner.
Myth 16 – Nothing Can Ease the Pain of a Broken Heart
Science suggests that there are actually moderate cures to the pain of a broken heart, which includes pain killers (aspirin, ibuprofen, etc), talking with friends, and exercising. These can reduce the buildup of stress hormones in your body, and encourage the release of endorphins (a feel good chemical).
Myth 17 – All Men Cheat
While the number of male cheaters in relationships has been found to be higher than women, research suggests that it is the "dumber" of the species who engage in such behavior. In other words, the more intelligent a man is, the more he will value the idea of a monogamous relationship and remain faithful. So in other words, we're talking about a win-win.
Myth 18 – I am Not Biologically Inclined to Cheat
According to researcher, Satoshi Kanazawa, the mushroom shape of a man's sexual organ suggests a historical unfaithfulness by women throughout time. Its shape is believed to have been adapted through evolutionary process to help scoop out the seed of other men, before depositing his own. Women can be just as inclined to cheat as men, so do yourself a favor and avoid all temptation.
Myth 19 – Men Prefer Meek, Docile Women
Research suggests that the men who prefer "weak" women are compensating for their own insecurities. The strong, self-sufficient, and confident man prefers a strong woman who can challenge him. This is another win-win for us women.
Myth 20 – Sensitive Men Are Rarely Passionate
Recent studies suggest that most women preferred masculine bad boys (square jaw, large nose, carefree attitude) for casual dating, and will only consider a sensitive man (small chin, raised eyebrows, caring) when searching for a lifetime partner. The reason this is important, is you may be pushing away a good catch, just because he does not seem masculine enough to ignite the flames in the bedroom. Give these guys a chance, ladies, as they may be acting this way because they've read this is a good way to attract a good woman.