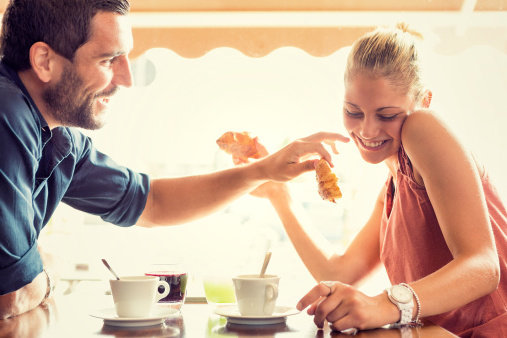 Research suggests that friendly flirting is one of the best ways for a woman to gain confidence, negotiate in the office, and get the best cuts of meat at the deli. The only problem with flirting is that it is not always as nice to be on the receiving end. This is because not every man flirts in the same way, which means that sometimes it can be difficult to decipher if the flirting has love on the agenda or only friendship. These are the 12 signs that his attentions are more than just friendly.
1. Smiling – Over 80 percent of men use this old standby as a way to flirt with a woman he is interested in.
2. Eye Contact – A guy is not going to get too far smiling to himself, so his smile will also come with some eye contact, which will hopefully be glued to you (at least for three or more seconds).
3. Mirroring– Smiling and eye contact only goes so far, so you may notice this telltale sign of interest. Men like to forge their own path in life. However, the one time you will notice him playing copycat with your actions, is when he is wanting to impress you.
4. Money Flash– Men know that women like to feel secure in their relationships, and one way for them to convey this is to prove his worth in gifts and lavish dates.
5. Gorilla Stance– Part of security is also looking the part, so many men will puff their chests, broaden their shoulders, and stuff their hands in their pockets in order to look strong.
6. Deflated Gorilla– Once a man has captured your attention, and he wants to convey your safety with him, he may deflate his previous gorilla to appear more approachable.
7. Favorable Odds– Only one in two men will ever turn a woman down for a date, so no matter how a guy appears to be flirting, you have a 50/50 chance of being correct. This is my way of saying, just go for it, girl.
8. Give Him a Smile– Over 84 percent of men can tell when a woman is only being friendly and not interested in them. When your actions appear oblivious, over 90 percent of guys will assume you're not interested by default, which is a real shame.
9. Give Him 5 or 6 Smiles– Because some men have a tendency to think the worst,  you may want to give him a barrage of signals if you sensed that he may have been trying to give you one. This is considering that we all think we're flirting much more than how the rest of the world sees it.
10. Compliment– Smart men understand that a compliment is one of the most grand gestures to show interest in a woman… and lucky for them, it works like a charm.
11. Non-Casual– Some guys are just flirts, and flirt casually with just about every woman they see. But even these guys will slow down and take their time once a woman has caught his eye as someone special. If you sense a guy has singled you out–he probably has.
12. The Dance– Guys routinely flirt with women as a casual dance. It is a way for them to feel sexy and masculine, and often does not really signify any love interest. None-the-less, if this dance ever becomes more intense, that is a good sign that he may have had a change of heart.
Guys can sometimes be confusing, but don't allow your interpretation of them make them appear more sophisticated than they really are.
Get More Flirting Advice
How to Play Hard to Get 
6 Flirting Must Have's