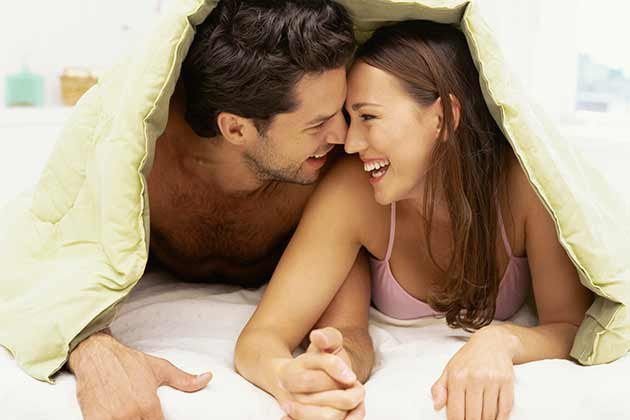 The survey's confirm that many women are absolutely terrified before having sex for the first time. Will he be good? Will he think I'm sexy? What about that ugly dimple on my left cheek?
As it turns out, we were worried about absolutely nothing, when you consider the five things that go through a man's mind before and during sex.
1. "She has a beautiful body"– No matter who the man is, where he was raised, or how much experience he has under the sheets, biology is on a woman's side when it comes to sex. This is because most every man loses his sensitivity before sex. Your dimples become silk, that little roll becomes a six pack, and everything else is magnified to your benefit. In other words, you're beautiful as you are, so don't worry so much about it.
2. "She wants me"– Three of the most desired words in the male mind before sex are, she wants me. There is nothing sexier to a man that a woman who has decided that he is worthy of her desires. The heck with playing hard to get when it comes to sex. Men just want to be wanted.
3. 'Oh!'– Men judge everything during sex by your reactions. While it has been said that men are selfish and only care about their own orgasm. The truth is, men need you to be pleased in order to feel pleasure themselves (there are exceptions, but this is true for most). I call this a guy's 'oh' face, as every time they stumble upon something that seems to feel good to you, you can see it in their expression… "oh!"
4. "Is it big enough?"– Women worry about the flaws on their body, while men worry about the size of their manhood. If he is smart he will understand that technique counts when dealing with smaller amounts. If he is not aware, you can teach him, by making suggestions of what sounds sexy to you, and if it appears to work, you will know by his 'oh' face.
5. "Would she?"– Many men do not feel comfortable with sharing their fantasies in bed, for fear of having them rejected. They figure it is better for his ideas to go unknown than to face a "no". However, these fantasies are what will distance him from your sex at times, as he will always be longing to try these things. Don't be afraid to open up that can, and ask him about his fantasies. There is a good chance a couple of them are things you'd like to try too.
We're not so different after all. Most importantly, we all like sex, especially when it is done right (and with a healthy state of mind).