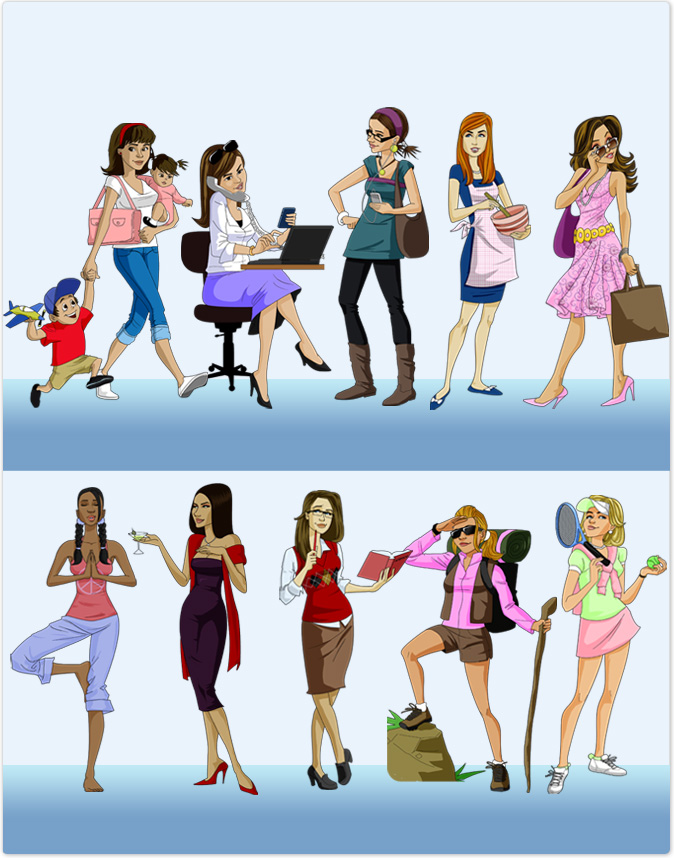 There are seven types of women that men want to date, for one reason or another. Let's see which type you are, and what kinds of relationship troubles you are likely to face because of that:
Loose Louanne
Loose Louanne is the woman who craves sex (or at least pretends like she does), and seems to almost never be satiated. It could be morning, afternoon, or an early afternoon lunch break and she is ready to go. The general consensus is that she may not be a guys best choice, especially if he is looking for a long-term commitment. Most men like a woman who is experienced and sexy. However, men also prefer a woman they can trust not to cheat if his wonder-stick suddenly loses some of its wonder.
Lucky Lucy
Lucky Lucy rarely makes plans, but things always seem to go her way. Some women would say that it is her confidence and strong relationship ties that help push her to such great heights. Considering that her life has been relatively easy, Lucy is usually in good spirits, and always up for anything. Stress is not a big factor, and she rarely feels as if things are not under her control. She may not be always be organized, and may have difficulty prioritizing her time, but in the end, Lucky Lucy is a fun girl to date.
Merry Megan
Merry Megan is an easy going, fun loving, and low maintenance woman. She is the kind of girl that makes it easy for a guy to be himself. She works hard, but is rarely stressed. This is because she maintains a good balance between work and personal life. Merry Mary is never in a hurry, whether it is getting out of bed (or into his), moving into his apartment, or talking about white dresses and picket fences. She does not have any particular expectations, other than a great guy with similar values to her own.
Darcy Downer
Darcy Downer doesn't know how to be happy. She is perpetually in a state of sickness and unhappiness, and some guys will assume that she likes to use this drama for attention. She may sometimes seem clingy, needy, and high maintenance. It is hard for most men to succeed in a relationship with her, as no matter what he does, she will always find fault with it. The only thing she has going for her, is hopefully she is really sexy and beautiful; otherwise, she may be in for a very lonely life.
Go-To Georgina
Go-to Georgina is named because she is the one person everybody can count on when they need something done. Whether it's a fundraiser, birthday party, or last minute client request; she puts others before herself, and is a true people person. She is generous with her time, and likes to stay busy; filling her days with various activities. While she is a person who will be looked upon as having a full life, these activities will take time away from her guy, leaving him feeling isolated and lonely.
Tenacious Tanya
Tenacious Tanya is like Georgina, except she has very clear goals driving her tenacity. She doesn't feel obligated to these goals, because she's afraid of letting people down, but because she is afraid of letting herself down. The typical progression for Tanya begins with a career, then relationship, marriage, a house, 1.5 kids, and finally, financial freedom. She often feels as if she has to reach each goal to have a complete life, which may put a lot of stress on her man.
Jane Dough
Jane Dough is a Tenacious Tanya who has made it to the top. She may not have accomplished everything she set out to, but has made up for it with a stellar career. Men are often afraid of Jane Dough, as they are easily intimidated by her success and wealth. It will usually take a confident man to feel comfortable around her. However, while some guys may think successful women are married to their work; she is actually very good at prioritizing and delegating her time, and would make a great wife and mother.