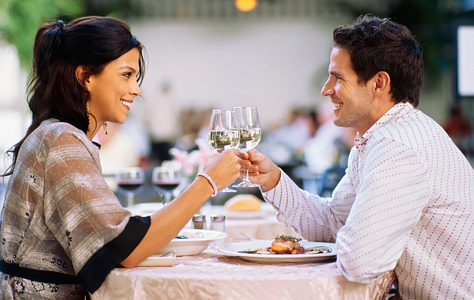 Romance is hard to find. You could travel the entire world and never meet anyone interesting. And you know something about that? It would be all that traveling that would make it so difficult.
When you put a lot of energy and time into meeting someone new, you use up all your light and spirit in that search. That leaves with very little spark to present yourself with a great first impression, which could be why you are having such a difficult time meeting a new lover.
That cute guy in yoga class, that handsome gentleman who passes you in the supermarket–these are all opportunities that you may be allowing to pass you by. It isn't always the obvious places that we meet our true love. In fact, sometimes the best places will seem a little… well, unusual.
1. Your Home
Your home is probably one of the last places you'd expect to meet someone new and interesting. But the truth is, having your best friends invite their best friends to a get together at your home is a great way to put the odds in your favor. Just think about it. You are in one of the most comfortable places you could be, and are surrounded by men who have been predominantly checked out by some of the people you trust most in this world (hopefully).
2. Jury Duty
They say that traumatic events can bring people closer, and jury duty is about as traumatic and boring as everyday life can dish out. While you are creating a bond of shared misery with your fellow duty members, keep in mind that once the trial is over, you never know who may want to get to know you better.
3. Food Vendors
Most restaurants section off its customers to separate tables, making it difficult to meet anyone. An outdoor food vendor breaks down these borders and allows you to get up close and personal with the people around.
4. Dog Yoga Class
Dogs are one of the best ways to meet guys. This is because the presence of an animal has a way of making guys feel more at ease when approaching you. And if you add in a hobby that you enjoy, like yoga, now you also have a common interest to keep the conversation going.
5. Burning Man
Burning Man may be over this year, but you still have time to plan for the next. Yeah, it may be a little wild and crazy, but it is also one of the most honest events you will ever attend. When you meet someone at a bar, it may takes months for you to see their worst side. At Burning Man, you will see the best and worst of most everyone, which can be quite refreshing for a change.
6. Doctor's Office
Meeting new people is usually the last thought on your mind while at the doctor's office, and this is precisely why it is such a good place to do it. Making connections with people who are not expecting it, can bring intrigue and mystery to your approach. In other words, let your fear of needles overplay your fear of getting turned down by an attractive stranger.
7. Beauty Salon/Spa
The gym is not the only place to meet health conscious men. The beauty salon is no longer a place for women, as men have discovered that they enjoy a good massage as much as the next gal. It is also a place of relaxation, joy and calmness, which are all important emotions to set a guy into the right state of mind to take a chance.
8. Discount Shopping Center
Love isn't gone; it is just hiding out at your local Wal-Mart, K-Mart or Costco equivalent. How do I know? according to a study of "missed connection" posts on Craigslist reported on Psychology Today, Wal-Mart is the most popular place for people to report feeling 'love at first sight'.
Now that I've got the ball rolling, turn your own imagination loose, and see if you can think up another eight unusual places to find yourself lucky in love.