If you are currently looking for a more efficient way to handle the mess of your period, we wish you luck, as there really isn't a lot of good options out there. Well, except maybe one. But first let's recap on what we've had to work with so far.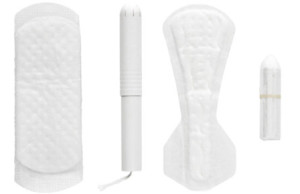 The majority of our options today have been around the for… I don't know, the last couple decades (or centuries). There are tampons which come with unhandy applicators, regular pads, and then those droopy diapers disguised to look like heavy-duty pads… and well, I guess that is about as creative as anyone has been up until now. And the worst part is, despite the lack of any real invention behind these products, most of them are uncomfortable, unreliable and not exactly stylish.
Well, what if you could wear a pair of hiphugger underwear on your heaviest days and a thong on your lightest? Yeah, that would sound pretty good to us.
Introducing THINX, a truly functional pair of underwear that work by… are you ready for this? You just slip them over your legs, place them on a comfortable position on your hips and leave the rest to the underwear. Yeah, we're not kidding.
THINX claims their heaviest pair can hold up to two tampons worth of liquid, they are completely 'leak-proof', anti-microbial and moisture-wicking. And if you think it sounds like a mess to clean-up, it is no more difficult than giving them a quick rinse, cold wash and hanging them up to dry (no heat dryers).
We wondered if these would be enough for our "flow"? And we were told they come in three styles to fit most women. The hiphuggers are designed for your heaviest days, the 'cheeky' style is meant for the medium and the 'thong' is best for your lightest.
Well, we're sure you have more question – and you will find most of the answer right here.
THINX, we think we love you; but we'll have to try a pair to know for sure!