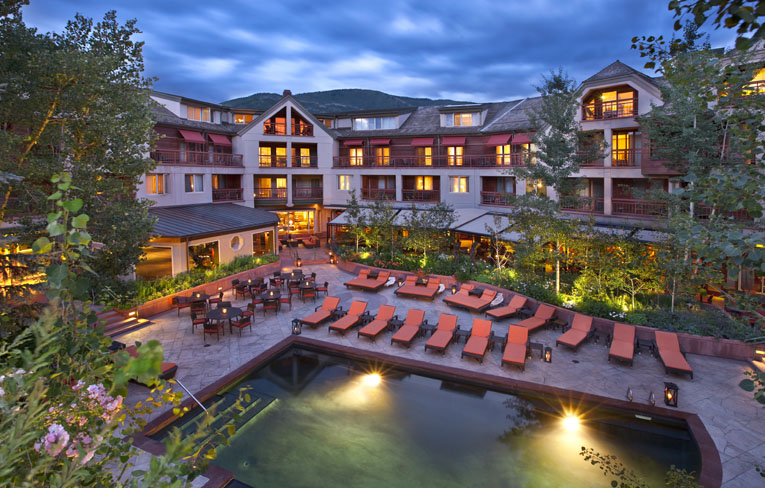 Heaven is a little something different for everyone. For some it is a full day of skiing through the powdery snow of the Aspen Mountains with a warm cup of Java waiting when they return. For others, it is a burbling rooftop spa nestled between the backdrop of a water garden and a cascading mountain sunset. Since the Residences at The Little Nell opened its doors, it has become Aspen Colorado's top ski-in/ski-out residence resort, offering just about any amount of heaven you can possibly dream up.
It is not hard for Aspen to impress its guests with its superb skiing experience. But when the day is done and the long line of non-residents travel up the roads to their destination of a combination of Two and Three-Star hotels and lodges, that's where the fun stops and the discomfort of being out of your element begins. There are only 26 families in Aspen each and every day who will have the opportunity to ski right down to the front door of their very own privately-owned, exclusive Five-Star luxury residence home.
While having first opened its doors in the 1960s, The Little Nell has had its share of updates over the years. Today it is currently nothing short of a $350 million residence club, which is easily classified as the most luxurious, shared ownership project of its kind, anywhere. Yes, I did say shared ownership, but this is no swanky beach condo, calling you on the phone every night, timeshare down in Orlando, Florida we're talking about.
These shared residence homes are offered as "1/8 fractionals", which means eight lucky individuals share the responsibility of owning either a three or four bedroom home and take turns using it throughout the year. These homes offer anywhere between 2600 to nearly 4000 square feet of amenity dense indulgences and not one is designed and decorated anything like the other.
Their long list of amenities include a designer décor, 24-hour concierge, pre-arrival grocery stocking, maid service, airport transportation, climate-controlled storage, state-of-the-art spas, swimming pool, and a rooftop water garden. Inside each home is a mixture of classic and contemporary furnishings which are all handcrafted of the finest leather. Original art work, hand-signed by some of the most popular artists in the area, highlight the furnishings which are tastefully offset by a mixture of limestone, hand-hewn timber flooring, and dense textured area rugs.
Each residence comes complete with a world-class, functioning gourmet kitchen with either granite or marble counter tops. A grand fireplace sets the mood in each living room and makes for a great first impression. Worry not about the crowded parking situation when in Aspen, as each resident is also given use of a private underground parking garage, which includes valet service.
Besides being a place of peace, tranquility, and the ultimate in convenient skiing, the Little Nell has established itself as a rather popular nightlife hangout among the local skiers and party goers. Once three o'clock rolls around, resident owners are invited to take to the the lounge, bar, and terrace, where they will enjoy priority seating for the nightly festivities.
So how much does a little piece of heaven like this cost?
Justifiably enough!