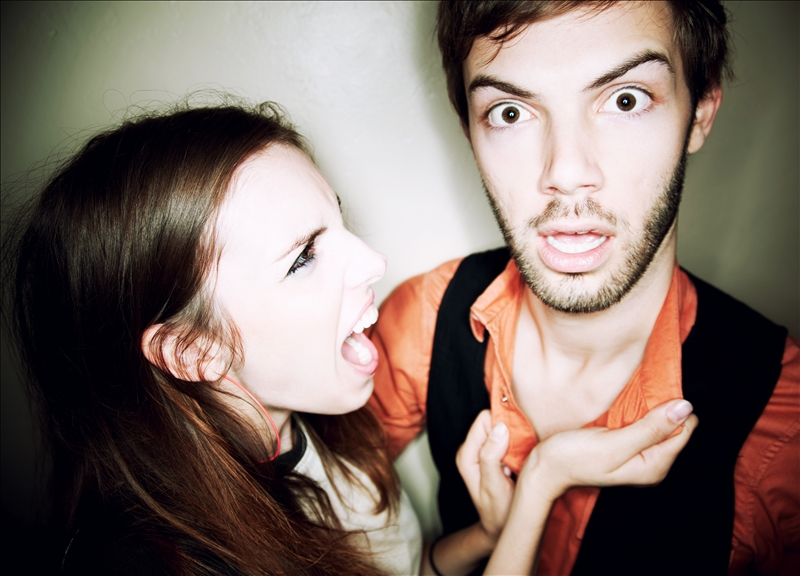 If communicating with your guy feels like pulling string through a brick wall, don't let your frustration turn that needle into a bazooka cannon. A man's exterior is not as sturdy as it may appear, and it doesn't take much to crumble the foundation supporting his ego. To help keep your guy's manhood intact, these are the most common, yet hurtful, phrases you should stay away from.
1. You're just like… (Insert foot here)
Unless you are about to compare your guy to John Wayne, it is probably best to drop these words at the starting line. Guys are never too keen on being compared to other guys, especially when it involves a cantankerous father, deadbeat friend, or your terrible ex.
2. I hate your (friend, mom, dog, etc.)
Hate is a strong word, and I can't stand, is not much better. If someone in your man's life is a vile of snake poison, let him figure that out for himself. Complaining about them, will only draw him closer to their corner, and farther from your own.
3. I can't wait to see what you're going to do for our Anniversary
Guys hate feeling pressured to perform, whether it is in bed, on the job, or for your one year anniversary. Expectation can be a dirty word in relationships. Being overly obsessed with one grand gesture, can make you blind to the little things your guy does for you every day.
4. I think you're going bald
He has probably batted these words around in his head, as many times as you've scolded yourself about your weight. However, if he had been the one to mention it, you would have scratched his eyeballs out. Subtlety is key when discussing a topic that may be sensitive to a man. If you really want to help him, make a casual suggestion, and leave the follow through to his own discretion.
5. The garage door is broken, so I asked my dad to fix it
You might as well call the cable guy to see if he can help with his erectile dysfunction, because that is about as emasculating as asking your dad to take care of you. Guys like to be the knight in shining armor for their damsel. If he decides to call your dad for help, let it come from his mouth, not yours.
6. (Insert your friends name) is cheating on…
Guys are trusting, but the minute he believes that you are hanging around someone who is a bad influence, he may start suspecting that your part in the story may not be so innocent. Before bringing up the adulterous shenanigans of one of your friends, make sure that your guy understands your disappointment in her actions.
7. Be a Man!
This is the same as tying a rock around his testicles, and sinking them to the bottom of the Atlantic. There is nothing more degrading to a guy than having his manhood questioned. If you are wanting your guy to show some backbone in a tough situation, there are better ways to inspire, rather than torching whatever masculinity he has left.
8. I was reading through your e-mails/texts…
Men value their privacy, and so should you. No matter what your reasoning is for looking through his stuff, if you mistrust him enough to damage his trust with the relationship, you should save yourself the trouble, pack his bags, and leave them at the curb.
9. Listen to me
He hears you. He is probably wondering why you can't find a better way to talk, so that he can understand you. Guys hate to be scolded about their inability to communicate. This is a stereotype that has done a lot of injustice to the guys who are doing their best to work around these low expectations.
10. Talk to me
Guys have a hard enough time sorting out their emotions, and when you put him on the spot, he is almost guaranteed to freeze up. This will only make you angrier, and him more frustrated. It is okay to ask him important questions. However, give him enough time to gather his thoughts before he answers.
11. This is your last chance
This is the kind of pressure put on men that has defeat written all over it. This threat rarely gives women the result that was intended. This unfortunately only succeeds at scaring a guy enough to do something rash and stupid, like having your face tattooed on his forehead.