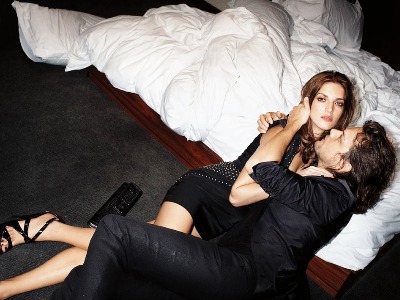 According to a Canadian study, most high school kids know a lot about casual sex. They know when it's too risky, not appropriate, and how to keep themselves from getting too intimate with a designated booty call. However, there is a lot more to the delicate act of sex. Some of which couples and singles are constantly getting wrong. Let's look at five of the most common myths about sex.
Once You Get Married, Sex is No Longer Important– In a study involving cheating couples, it was discovered that the typical cheater blames their boring sex life on marriage, and the fact that their partner does not try hard enough. It is interesting to note that the cheater blames their partner primarily, even though they are just as much at fault for not taking the initiative. To these naysayers, I remind them that most studies suggest that the average married couple has more sex than a swinging single. Why? Because they have anywhere from 25 to 300 percent more opportunities to do it.
Men Think About Sex Every Seven Seconds- Women often joke about this, because it always seems that their boyfriend has sex on his mind. Men have been influenced through evolution to be ready for sex at any given moment. When man-eating prehistoric chickens are a part of your daily life, you've got to enjoy the thrills of passion whenever the opportunity presents itself. Women often mistake this "Ready Freddy" attitude, with being obsessed with the thought of sex. However, the Kinsey Institute has a set of new numbers for you. Over half (54 percent) of all men think about sex only once a day. Forty-three percent spread their fantasy time to only a couple of times per week, and the remaining guys were lucky to think about it once a month.
Premature Ejaculation (PE) is Abnormal– Men have been fighting this stigma for a long time, and it is time to set a few things straight. One, according to studies, the average guy is lucky to make it past the two-minute mark once the first round bell rings. Two, men come from a long line of prehistoric hunters, who often fell prey to other bigger hunters (a.k.a. those burly prehistoric chickens). When you consider that something could be stalking you at any moment, scientists speculate that men had to get the job done quick. The more danger a guy suspected, the quicker he was, which explains why anxiety is still one of the leading causes of premature ejaculation.
Fantasizing About "Other People" During Sex Is a Sign of Dissatisfaction– If you consider that around 25 percent of Canadian men have fantasized about Barney the Purple Dinosaur (or equivalent) while enjoying an intimate moment with their partner, it shouldn't surprise you that fantasizing about other people is actually quite common. In fact, over 90 percent of couples around the world actively engage in the art of imagining their partner as someone else. The most popular fantasies are not of Roger Rabbit or David Hasselhoff (Knight Rider) however, as the majority of women prefer the more realistic, and practical possibilities of seducing a friend, neighbor, or co-worker.
Now that you know a little more about the common myths of sex, we invite you to grab your partner and set the record straight. Just don't forget to play it safe.