If you like orgasms and a happy blissful relationship, Dr. Jessica O'Reilly, Ph.D ("Sex with Dr. Jess"), and Marla Renee Stewart, MA have co-written a book and we think the title says it all. "The Ultimate Guide to Seduction and Foreplay" offers guidance to improved seduction techniques, arousal, and satisfying your lover's fantasies, while also indulging and respecting your own (of course).
And while you could read through this book in just a few nights and set to work on your laundry list of sexual desires, we'd like to start your journey by sharing an intimate discussion we recently had with Dr. Jess. And considering that we could literally ask her anything we wanted – we wasted no time and got right down to the nitty-gritty.
Just Amorous: Hi Dr. Jess. We want to know what you consider to be the best sex tech that is available for women today?
Dr. Jessica O'Reilly: Companies like Womanizer have launched new technology that allows folks to have more intense orgasms and, in some cases, have orgasms for the very first time.
Just Amorous: How does that work?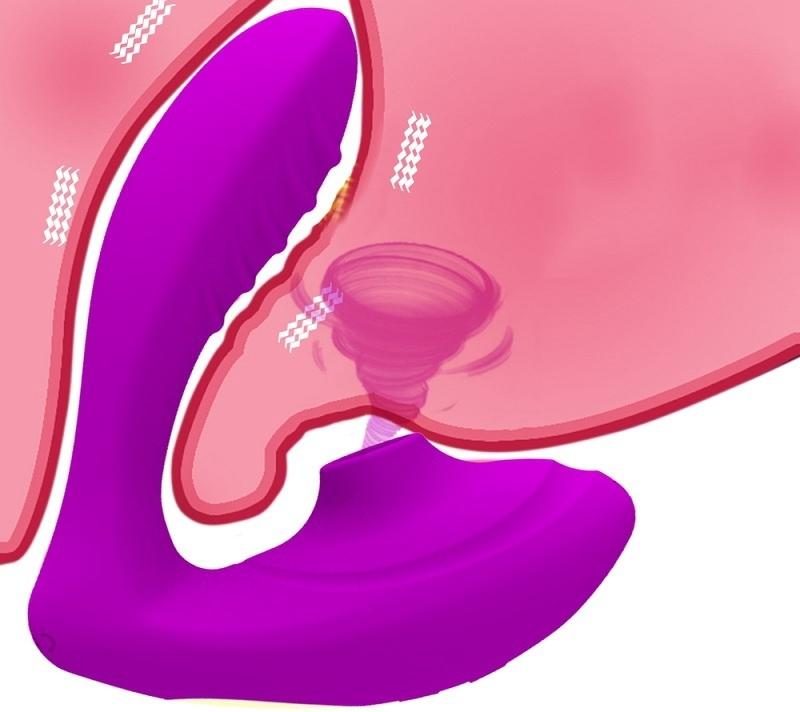 Dr. Jess: Rather than using vibrations, their toys release gentle waves of air, called "Pleasure Air", to create a suction-like sensation that is both touchless and intense.
Just Amorous: Oh, now that is interesting.
Dr. Jess: Other companies have integrated app-based technology into their product lines. Toys like the We-Vibe Pivot and Moxie, a really cool wearable panty-vibe that actually stays put and provides deep rumbly sensations, can be controlled from a remote or from the We-Connect app. You can pair with your partner and give them the reins of control allowing for long-distance connections across continents.
Just Amorous: We can think of a few ways to play with that.
Dr. Jess: We're also seeing a broader range of sex toys to address gaps in the market:
Just Amorous: Gaps?
Dr. Jess: The POP was designed for both pleasure and reproductive function. This novelty strap-on dildo allows you to have penetrative sex and enjoy the sensation of ejaculation — without a penis. Its inner tubing is embedded inside the shaft with an attached pump and you can replace the plastic tubing after one use to eliminate sanitary concerns about mixing liquids.
Just Amorous: Yeah, that kind of intimacy has definitely been a gap. Do you think a couple needs a monogamous relationship in order to achieve maximum sexual intimacy?
Dr. Jess: We now have more research in the field indicating, for example, that monogamous relationships are no more satisfying, long-lasting, or loving than open, ethically non-monogamous ones.
Just Amorous: That makes sense.
Dr. Jess: These new areas of research will hopefully create openings for more people to explore a wider range of sexual and relationship options — rather than simply falling into mainstream norms without thought or consideration.
Just Amorous: And that's a big deal. We've read the chapter in your book on how to give anyone a full-body orgasm, and were hoping that you could share some of those highlights with our readers?
Dr. Jess: The Full Body Orgasm: full-body caress from the book:
Begin at their scalp by touching very gently. Roll your fingertips through their hair or trace them in slow semi-circles. Kiss gently with your lips and use your nose to follow the contours of their ears. Take your time here spending a few minutes on their scalp and ears alone.
Work your way down their neck breathing breath kisses over it for a few minutes; you can keep your hands on their head to stay grounded. Follow the shape of their neck with the tip of your nose, cheeks and lips. Plant a few gentle kisses and trace around with your palms. Smile as you touch them for pleasure. Use massage lotion or oil and make sure it is open and accessible in case you need to reach for more during the full-body caress.
Work your way down to their shoulders — kiss, lick, breath, swirl, touch and really feel their skin against yours. Notice how their skin feels and how your body responds as you touch and explore. Use the backs of your hands over their shoulders as you gradually work your way over their upper back and shoulder blades.
Touch with your fingers, palms, lips, tongue and breath. Be slow and gentle, as you are just getting started. Explore this area experimenting with different strokes. Try the Slow Motion Pitter-Patter over their shoulder blades and then follow up with the Two-Handed Heart for a few minutes. Pay attention to your breath. Is it slowing down? Can you hear their breath deepening?
As you work your way down their sides and lower back, touch slowly and with intention. Can you breathe warm air all around the small of their back? Can you kiss, caress and roll your tongue around and then breath over the wet path? Can you roll your tongue in a figure-eight pattern. When you press your cheeks against their lower back, can you feel their body rise and fall with each breath. Spend a few minutes here before you slide down to their buttocks.
Sweep your palms gently over their cheeks. Allow your hands to move in unison or alternate one at a time. Start slow and gentle and increase the speed and pressure over the course of three to four minutes. Breath over their butt cheeks. Kiss them. Suck them. Breathe them in. Slide your finger between them. Glide your nose between them. Roll your tongue around the area. Tease down low, but do not reach around and grab their hottest spots yet. Tickle, trickle, caress, knead and handle to your heart's content. You are touching to escalate their pleasure as well as you own, so do what feels good for you.
As you work your way down their thighs, alternate between gentle trickles and breaths and warm touch as you wrap your hands right around them and slide up and down. Move from side to side as well as in unpredictable, organic patterns with your lips, cheeks, nose, hands and chest. Slip your fingers between their thighs so that you almost touch their genitals. Open their thighs and kiss all around with heavy breath. Be sure to explore every square inch so no area goes untouched.
Take your time as you explore their calves, inner ankles and feet. If they do not like to have a specific area touched (e.g. feet or knees), be mindful of their preferences. You can make exceptions to the every-square-inch-rule to ensure their emotional and physical comfort. Once you have caressed the entire backside from head to toe, move back up their legs for a second round and move on to their arms. Play with the thin skin of their inner elbows and take extra time with their fingers to touch, caress, kiss and suck. Experiencing orgasmic sensations in your hands can be overwhelming, so spend a few extra minutes here.
Check in with them and with yourself throughout the process. If you find that your mind wanders or if you have trouble staying present at any time, bring your focus back to your breath as you pay attention to the way the air feels flowing into your nose and out of your mouth. After a few breaths, bring your attention to your fingertips and feel free to close your eyes to heighten the way in which you interpret and experience physical sensations.
When it is time to roll them over, cover their eyes and reconnect by holding hands or kissing before starting again from head to toe. Spend at least a few minutes caressing their face with the backs of your hands. Plant kisses, run your nose around their curves and breathe deeply. Kiss and caress their neck, ears and collarbone. The face and collarbone can also tingle with pleasure during orgasm, so be sure to play with various strokes, kisses and nuzzles.
Work your way down their body just as slowly as you did on the backside exploring and experimenting with new touch patterns. Follow the curves of their chest, abdomen and hips. Roll your fingers around the nipples, breathe over their chest, kiss down their sides, slide your cheeks under their arms, trace their contours with your nose, use a feather or soft scarf over their shoulders and upper arms, turn on a vibrator on the bedside table to pique their interest, swirl your palms over their inner wrists, twirl your tongue around their fingers from top to bottom and breathe over their tummy.
When you eventually arrive between their legs, breathe warm air over them as you skip their genitals (we'll get there soon) and play with their thighs. Continue to kiss, stroke, rub, lick, fondle, brush and embrace their legs down to their toes. Move purposefully and follow your natural inclinations. You can pick up the pace and the pressure as you come back up to their genitals and move on to a more erotic touch — with your hands, lips, tongue, and toys.
Choose any approach that appeals to you as you take their arousal to the next level. We offer a very wide range of oral and manual techniques in the next two chapters, but you can touch, suck, ride, stroke, or vibe in any way that works for you.
Just Amorous: Thank you, Dr. Jess.
And now that we've got ourselves all hot and bothered, we would like to remind our readers that this book contains a lot more details on how to give a man a full and proper BJ. Like somewhere around 30 pages of tips, and that is only the "tips" if you get what we mean. If you're ready to dive down that rabbit hole, you purchase the complete book on Amazon. You can also hang out with Dr. Jess on a daily basis through one of her many social avenues, including Sexwithdrjess.com, Twitter, and Instagram.